AdvancED Accreditation Renewed 
By Alex Saitta 
July 21, 2014 
By law, the South Carolina Department of Education accredits all public education units -- school boards, school district operations and schools, and certifies the diplomas issued by school districts in the state.  
The School District of Pickens County is accredited by the state and was recently given a 3.93 (out of 4.0) score. The state gave our school board the highest score of 4.0 or "All Clear", showing it was and remains compliant with all state laws, regulations and standards.  
AdvancEd is a private organization our school district pays a fee to accredit its schools, board and district. This is separate from the accreditation process of the Department of Education; it is voluntary and not required by law. Colleges value this AdvancED's accreditation, so our district chooses to participate in its accreditation process.  
I've lost count with the number of conversations I've had with people where they've said things like the state is going to take away our accreditation. Or my child's diploma will no longer be certified by the state. So it bears repeating there are two certifications. The state's accreditation certifies state diplomas and AdvancED's is valued by colleges around the world. Two different accreditations, with two different purposes with value in different ways.  
In December, AdvancED recommended renewal of our accreditation. Much like our building reviews or financial audits that say we must fix that stairwell at such and such school or they recommend we should increase our savings, AdvancED listed some required actions to do with building maintenance, education issues and board governance.  
Working with the board's attorney and consultant, the next few months we discussed the report and the district and board worked to address AdvancED's concerns. We took the concerns seriously, felt confident AdvancED would be satisfied and the renewal of our accreditation would be finalized in a few months. I lost count how many times I wrote and said all of this in the December to March period.  
(So I wasn't surprised when I read Dr. Zais' March 26th response to a letter from a citizen of Pickens County. What Zais wrote, was much like what I had been saying and writing for months on the issue. See his email below.) 
Our school board submitted a report to AdvancED in April, and district leaders and board members met with AdvancED in May. AdvancED was satisfied and has renewed the school district's accreditation for another five year term. We will continue to work with AdvancED as we do the state on all accreditation issues.  
Unfortunately some groups in the community like the Concerned Citizens of Pickens County ran to TV and the press saying our district accreditation was about to be lost. Actually, the opposite was true — like I said, AdvancED recommended accreditation. At the time, I said their claim was baseless and it proved to be such, but their false claims made a lasting and harmful impression on the public. Also TV reports the sensational and a baseless claim the district was going to lose it accreditation was eye-catching and the TV news ran with it. When the accreditation was renewed, that was ho-hum, boring, so TV didn't report that.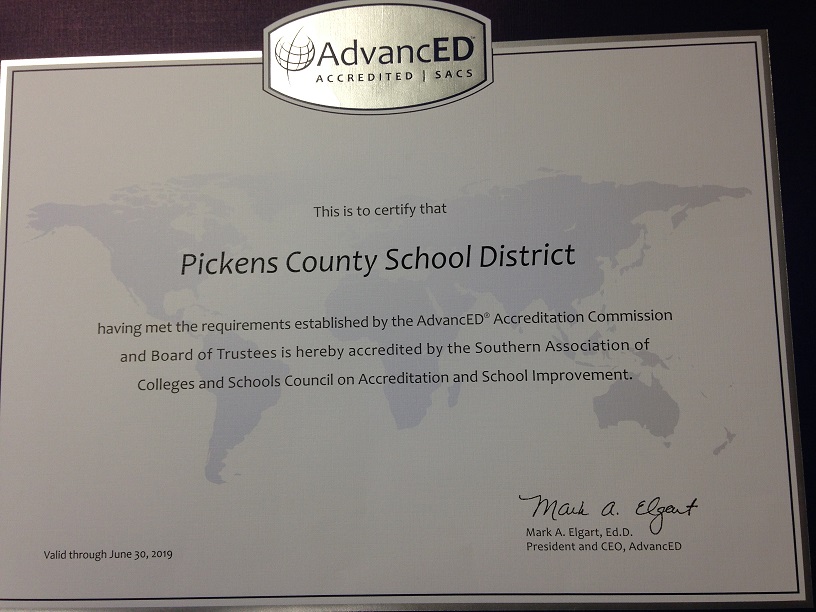 This email is a letter from Dr. Mick Zais, State Superintendent of Education, to a citizen that wrote the governor on the issue. This person forwarded Zais' letter to me.  
From: Ed, SCSupt [mailto:SCSuptEd@ed.sc.gov]  
Sent: Wednesday, April 09, 2014 3:26 PM 
To: xxxxxxxxx@charter.net 
Subject: Re: Pickens County School Board Controversy 
After the salutation, the email began… 
The e-mail you sent to Governor Nikki R. Haley on Friday, February 7, 2014, regarding the Pickens County School Board was referred to me for response. 
I would like to address some of your concerns about the accreditation of the Pickens County School District. First, AdvancEd provides accreditation of districts and schools that is separate from the accreditation process of the SC Department of Education (SCDE). Though many schools have both accreditations, they are only required by state law to be accredited through the SCDE. The loss of one does not necessarily have an effect on the other, as the systems look at different criteria. The graduating seniors in Pickens County will still be granted a state-issued diploma, even if it loses the AdvancEd accreditation. 
Second, the final report of the AdvancEd team does not suggest that the school district is about to lose its accreditation. Instead, it lists areas of improvement and asks that plans be implemented and records retained of their progress. In fact, AdvancEd has recommended renewing the Pickens County School District's accreditation. 
Finally, as State Superintendent of Education, I do not have the authority to remove members from a local school board except under the provisions of the Education Accountability Act (EAA), when the district is rated "at risk" and the State Board of Education approves a state takeover of the district. Pickens County School District has a "Good" report card rating so the EAA does not apply. 
Thank you for your interest in public education. I hope that we can count on your continued support as we work to ensure that all of our young people reach their full potential. 
Sincerely, 
Mick Zais, Ph.D. 
State Superintendent of Education 
The information contained in this transmission is intended only for the use of the person(s) named above. If you are not the intended recipient, please contact the sender by reply email. The South Carolina Department of Education is neither liable for the proper and complete transmission of the information contained in this communication nor for any delay in its receipt. To reply to the agency administrator directly, please send an email to postmaster@ed.sc.gov. Communications to and from the South Carolina Department of Education are subject to the South Carolina Freedom of Information Act, unless otherwise exempt by state or federal law.